Our guide to buying a touring caravan
We take a look at how to find the best new and used touring caravans in the UK. Touring caravans offer the ultimate mobile family holiday, just hitch up your caravan and tow your holiday accommodation with you, wherever you choose to travel in the UK. 
Touring caravans and caravanning holidays have always been popular but since the Coronavirus pandemic has impacted foreign travel, people have turned to holidays at home and staycations, which has resulted in  booming touring caravan sales over the last couple of years.
The market for touring caravans is long established with numerous national and local dealerships selling new and second hand touring caravans. Caravan dealerships are a good place to start if you want to physically view some touring caravans and see what you can get for your budget. 
New entry level touring caravans start from £16,000 – £20,000 for a 2 or 4 berth model 
New mid range touring caravans start from £20,000 to £25,000 
New luxury touring caravans start from £30,000 to £40,000 but can go right up to over £70,000, especially for luxury high end models like those made for the UK & EU markets by the iconic American Airstream brand.
What's the cheapest new 2 berth touring caravan?
The cheapest new entry level 2 berth touring caravans include: 
Elddis Explore 302 on offer around £16,000 at some dealers 
Lunar Venus 2 berth £17,000 to £18,000
Sprite Alpine 2 berth £17,000 to £18,000 while coming in a touch over £19,000 you have the Swift Basecamp.
What's the cheapest new 4 berth touring caravan?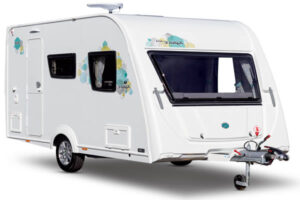 One of the lowest priced family caravans is the 4 berth Elddis Xplore 304 available in a number of specifications, some UK dealers are offering the new 2022 Xplore 304 model at just under £17,000 check out details here >>
Should I buy a UK made touring caravan or a European manufactured touring caravan?
Most people believe touring caravans were invented in the UK and whilst there is ongoing debate as to where caravans were first invented, it is clear the UK has many great touring caravan manufacturers and lots of choice. You can be sure to find touring caravans for most budgets.
European manufactured touring caravans often have their own unique style but they all feature similar functionality to UK built caravans.
Brexit impact – importing or buying a European touring caravan
Brexit could result in additional costs being applied to an imported caravan, although most European caravan models are now available to buy somewhere in the UK from affiliated dealers or resellers who factor costs into displayed sales prices.
Database of UK & EU touring caravan manufacturers
We have listed many of the UKs' touring caravan manufacturers and European touring caravan manufacturers below, check out the websites where you can view or download the latest caravan brochures and other helpful information.
How can I get caravan finance or a loan to buy a touring caravan or motorhome?
Many touring caravan & motorhome dealerships work with established finance companies like Black Horse. If you need finance check with the dealer to see what your options are. Generally caravan & motorhome finance is secured in a similar way to taking out finance on a new car: 
You put down an agreed deposit. 
Your finance company pays the balance. 
You pay off the loan in agreed monthly repayments (until the loan is repaid along with the interest applied). 
There are numerous leisure finance/loan calculators online that allow you to see what sort of finance you can raise and how much it will cost you over the repayment period. 
If you are not satisfied with an offer of finance you can explore taking a personal loan with your bank. Most banks & building societies can issue loans and it is often easier to secure a loan with your bank as you already have an ongoing relationship with them.
A new touring caravan is too expensive what are my options?
If a new touring caravan is out of budget the second hand caravan market is often a great place to find a bargain. 
New caravans reduce in price or depreciate in the first couple of years, buying a nearly new caravan can save you thousands of pounds.
Most dealers have a good selection of resale caravans and also provide the added security of a limited warranty on newer resale stock. 
The private caravan sales market is also great for bargains, local newspapers and regional news websites often have caravan free ad sections. A quick search online will also bring up various specialist private sale websites like Preloved or FridayAds & Caravansforsale.com 
eBay is also a good place to search for second hand touring caravans. eBay usually has 1000's of private caravans for sale and if you find an auction sale with no reserve you could pick up a real bargain.