BEST touring caravan security devices
We assess the best security devices you can buy to protect your touring caravan from being stolen. Every year 100s of touring caravans are stolen from driveways and caravan storage facilities, touring caravans are attractive to thieves due to their high resale value. With this in mind it's important to take some simple precautions to secure your touring caravan.
It is advisable to use a number of caravan security devices to deter criminals, caravan security experts suggest at least two security measures or devices should be installed. Touring caravan security products can provide a visual deterrent, they also make it much harder for thieves to steal a caravan. It's increasingly common for touring caravan insurance providers will ask for one or more security devices to be fitted as a requirement of insurance cover.
Hitch locks are designed to cover the tow ball hitch at the front of your caravan or trailer, there are numerous designs of tow hitch so hitch lock manufacturers produce various designs to either cover the whole tow hitch or prevent access to the coupler.
The best hitch locks are made of tough metal, designed to cover the whole hitch and coupler with a barrel lock rather than a padlock. Look for a hitch lock with the'Sold Secure' mark this provides an independently assessed quality guarantee. Hitch locks take seconds to fit and can be used when your caravan is stored and also when you are using your caravan and staying on sites.
Bulldog hitch locks fit over the whole tow hitch and handle. They are easy to fit and protect your caravan or trailer whilst it is uncoupled from the tow vehicle. Bulldog hitch locks start from around £80
Buying tip make sure you know the correct make of your hitch/coupler (e.g. ALKO, Bradley etc) as well as the model number, designs are very. specific
Caravan wheels clamps are also a good visual deterrent, the best wheel clamps are designed to cover the whole wheel and all wheel nuts.  Wheel clamps made of high quality steel are much harder for thieves to break or remove. Look for a wheel clamp with the 'Sold Secure' mark, this provides an independently assessed quality guarantee. Wheel clamps like hitch locks can be used when you caravan is stored and on site when you are pitched up.
Bulldog Titan Wheel Clamps
Bulldog Titan wheel clamps are highly rated, made of tough steel and designed to fit over the whole wheel and all wheel nuts.
Titan wheel clamps start from around £160
Buying tip make sure you know the correct wheel and tyre size to get the correct clamp size for your wheel. 
Caravan steady locks are relatively new to the market and are designed fit to the winder nuts that raise and lower a caravans steady/feet. Steady locks basically lock the winding mechanism so the steady/feet cannot be lifted. Whilst steady locks provide a visual deterrent they might not be recognised as a legitimate security device by some insurance providers, so make sure you check.
Caravan alarm systems are often fitted as an optional extra in new caravans. A alarm can be a simple audible deterrent but many modern alarm systems provide both an audible alarm with instant notifications via text message or even automated calls if a break-in or movement is detected. Make sure any alarm is securely fitted in a concealed location so it cannot be disabled or removed by thieves.
Some of the latest caravan alarm systems are also connected to GPS, allowing you caravans movements to be tracked if it is stolen.
Caravan Alarm & GPS Tracker Systems
Caravan tracker devices use GPS satellite technology to monitor movement, a tracker could increase the chance of your caravan being located and returned if it is stolen. Like caravan alarms, trackers need to be professionally fitted in a concealed location to prevent removal or disabling by thieves.
The best caravan GPS tracker systems provide 24 hour monitoring that can be set to trigger when your caravan is moved without prior notification by an owner.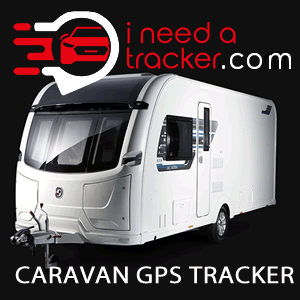 Quality GPS Caravan Trackers usually start around £200 (fitted) and will have a monthly or annual service/monitoring plan usually around £10 – £15 per month, until cancelled.
INeedATracker.com stock a Thatcham S7 rated GPS tracker at £229 plus monthly/annual or lifetime monitoring plans.